May 2002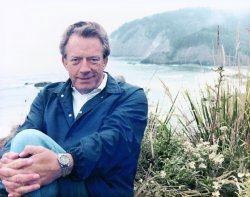 Dear Friend of Christian Destiny,
Many times over the years we have heard Dave speak of the wise steward who managed well the talents his lord had placed in his care. When his master returned and called him to explain his actions, he was told:
"Well done, good and faithful servant...
Enter into the joy of thy lord."
That was the greeting Dave longed to hear, when he made his abundant entrance into the wideness of eternity. Well, that day has come.
On May 3rd, at 9:07pm Central Daylight Time, Dave slipped from the bonds of human life into the shining presence of the Lord. Complications from his stroke became more than his body could bear, but his spirit remained upbeat and his faith bright and clear.
Dave certainly was a wise and faithful servant of the Lord. He invested "the stubborn ounces of this life" in the fight to accomplish the one thing that really matters—spreading the Good News of the Gospel to a world that needed to hear about Jesus and His power to save. He often said that God would ask, "What did you do with the time and the talents that I gave you?" And God gave Dave many wonderful talents.
In fact, there is no example of "The Magic Multiplier"—the divine mechanism for creating true prosperity of the spirit—that is more appropriate, in my mind, than Dave's life. With the marvelous alchemy that only God can do, He took the simple talents of Dave's life and multiplied them into an outreach that spanned the globe, touching millions for the Savior.
With the help of God and the continued support of our special friends, we will continue the ministry of Christian Destiny to make Dave's timeless messages available. Dave had many studies that have never been put into print. And the messages of the bright destiny of the Christian must continue in these days to come.
Watch our coming mailings for more of Dave's teaching. We will also continue to offer prophetic analysis of current events. Pray with us, as we continue the vision that Dave started here at Christian Destiny. Dr. Ed Hindson, Dave Weeden and others will be contributing editors. Thank you for your fellowship in the Gospel. I look forward to hearing from you.
In appreciation of your prayers,
Carol Breese
"Now thanks be unto God who always causes us to triumph in Christ and makes manifest the savor of His knowledge by us in every place." II Cor. 2:14