Suggested Donations: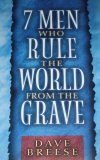 Seven Men Who Rule the World From the Grave
Dave Breese warns us of the dangers of believing unreservedly the ideas of these seven men. He also reminds us of the only man whose life and words we can trust completely—Jesus Christ. $15 How to order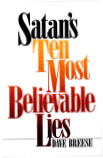 Satan's Ten Most Believable Lies
This book describes ten of the enemy's false doctrines. Each chapter defines a satanic lie and compares it to the truth found in Scripture. $10 How to order
---
Please call 800-777-8806 or mail us an order form.