The Nation of Israel
With Israeli patience wearing thin and escalating violence, the Holy Land remains a smoldering powder keg awaiting a spark that could ignite a regional, or even global, conflagration.






The Tide of Our Times
The war against Christianity in America is escalating and becoming increasingly hysterical. This is true of both secular influences and Islamic militants.


<!>

Five Needed Resuscitations
There are at least five vital, critically important doctrines which are in a state of severe neglect in our time. They need to be reemphasized, indeed, resuscitated.
<!>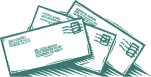 Your Questions Answered
How can I know the will of God for my life? How can I best bring others to Christ?