The Character of a Leader
The Bible foretells that in the prophetic days now breaking upon us, there will arise a certain central theme that you and I would do well to address. It will have a telling influence upon what the world will finally become.






The Tide of Our Times
The United States is strongly committed to the security of Israel as a vibrant Jewish state. After two decades of rapid growth, China's economy is having a global impact in all kinds of surprising ways.


<!>

The God Who Does Not Tire
One of the easiest things to do in life is to begin something. Indeed, there are a thousand activities in life which we have found easy to begin. The hard part, however, is not the beginning. It is keeping the project going. It is finishing well.
<!>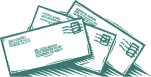 Your Questions Answered
Who are the people who really matter in life? How much influence should a Christian leader have?