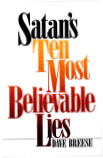 From Satan's Ten Most Believable Lies
by Dave Breese
Life has a purpose. We are here in this world on a divine mission. There is a reason for our existence, a reason that is realizable in time and understandable in the light of eternity. Unfortunately, this fact remains forever obscure to most people. The lives of a majority of people, and most would readily admit it, are without a personal goal. If it ever occurs to them that life has a purpose, they quickly escape from this nagging suspicion into a world of amusement or indulgence.
Life's purpose is given insufficient attention by most of us. This inattention becomes tragic when we remember that nothing in all of the world becomes useful or significant unless it functions in the fulfillment of its purpose. The importance of purpose is so obvious that it is astonishing that we ignore this principle when considering the greatest mission of all, life itself.
We can draw an inference from this disinterest in life's purpose, namely, that when a person ignores the purpose of life, he is not merely stupid, he is spiritually subverted. He is being drawn into irrationality by a force acting upon his thought processes, clouding his reason, so that he does not see the foolishness of his position. As Scripture warns, Satan himself is blinding his mind so that he does not see the foolishness of his position. As Scripture warns, Satan himself is blinding his mind so that the simple truth that life has a purpose continues to escape him.
We have already seen that one of the doctrines of the devil is to suggest that God has no true destiny for our lives. The final satanic doctrine that we shall consider is an expansion of this earlier suggestion. It is the call that says, "Don't give yourself to fulfill the purpose that God has for your life." Or, as he expressed it, in effect, "Don't go to the cross."
This satanic doctrine is revealed through a conversation between Christ and His disciples. As Christ approached the end of His three-year ministry, He began to introduce to His disciples the subject of His coming suffering and death on the cross. The possibility of the death of their beloved Leader was a prospect so foreign to the thinking of the disciples that they were hardly able to comprehend His presentation of this unspeakable fate. Was He not the Messiah? Did He not come to establish a great kingdom? Were not they, the disciples, to reign with Him in that kingdom? With these questions in mind, they could hardly endure the dark foreboding that grew in their minds as Christ talked about the future.
From that time forth began Jesus to shew unto his disciples, how that he must go unto Jerusalem, and suffer many things of the elders and chief priests and scribes, and be killed, and be raised again the third day. Then Peter took him, and began to rebuke him, saying, Be it far from thee, Lord, this shall not be unto thee. But he turned, and said unto Peter, Get thee behind me, Satan: thou art an offense unto me: for thou savorest not the things that be of God, but those that be of men. (Matthew 16:21-23)
In this scene, Jesus announces that He is going to the cross, and Peter responds by saying "Be it far from thee, Lord: this shall not be unto thee." Those who hold that Christ always spoke in gentle, saccharine, ambiguous words, are caught up short at His stern rebuke to Peter, "Get thee behind me, Satan." Our Lord was not detracted by Peter's statement, so expressive of "loving concern." He knew that the real author of the words of Peter was His old enemy, Satan. The enemy was active, even in that loving circle of Christ and His disciples, as they spoke together about the kingdom of God. In this intimate circle, Satan speaks, saying, "Don't go to the cross." Here, again, this tireless enemy of God attempts to deter the Lord Jesus Christ from fulfilling the purpose of His earthly life, to die for the sins of mankind and therefore provide redemption for a lost humanity.
Satan was well aware of this purpose. The plan of God for the coming and death of Jesus Christ had been announced many times in the Old Testament. Indeed, the first promise of redemption was given by God immediately following the Fall of man, which was Satan's first triumph over humanity. Speaking to the serpent, God had said, "And I will put enmity between thee and the woman, and between thy seed and her seed; it shall bruise thy head, and thou shalt bruise his heel" (Genesis 3:15). At all costs, Satan must not allow this plan for human redemption to be consummated in the death and resurrection of Jesus Christ. If, through the wonderful provision of God, man could be made a new creation, Satan's kingdom would be brought to ruin and his own doom sealed.
The record shows that Satan attempted in many ways to prevent God's program of redemption for a lost humanity. Consider some of these ways.
When the human race was corrupted by satanic activity in the sixth chapter of Genesis, the very survival of true humanity was at stake. The response of God was at once a loving and a destructive act. He sent the Flood and destroyed all human life except those eight souls that were aboard the ark. Had Satan succeeded in corrupting humanity in total, it would have been impossible for a human Savior to appear. Consequently, the promise that Christ would be "the seed of a woman" would have been made impossible and thereby human salvation would have become impossible as well. This necessitated the purging of the human race, leaving eight uncorrupted people to repopulate the earth.
In another attempt to prevent redemption, Satan tried to destroy the Jewish race. This attempt is recounted for us in the magnificent book of Esther. Here, Israel in captivity is the object of a murderous conspiracy promoted by Haman, the chief minister of King Ahasuerus. Subverted by Haman's lies, Ahasuerus issued an edict that the Jews were to be destroyed and their property taken for spoil.
In this edict lay not only the fate of Israel but the fate of the human race. God had promised that He would send a divine Redeemer. This Redeemer would come out of Israel and would be of the tribe and lineage of David. Were Israel to be destroyed, this promise could not be fulfilled.
Happily, Haman's plan to destroy the Jews did not succeed. This was made possible in part because of the intervention of Esther, who was a Jew and the favorite queen of Ahasuerus. She persuaded her husband to allow the Jews to defend themselves, therefore surviving to beget Christ, the Author of the world's redemption.
In one of his bloodiest assaults, Satan continued in his plan to thwart divine redemption by attempting to kill Christ as a child. "Then Herod, when he saw that he was mocked of the wise men, was exceeding wroth, and sent forth, and slew all the children that were in Bethlehem, and in all the coasts thereof, from two years old and under, according to the time which he had diligently enquired of the wise men" (Matthew 2:16). So utterly shameless is this infant massacre that we can draw a conclusion about satanic effort. He will stop at nothing to destroy the purpose of God in the lives of people. He is without pity, implacable, unmerciful. It is nothing to him if the world runs red with blood, if only he can tear God from His throne. He is cruel beyond belief!
Now, on the occasion of Peter's statement, we find Satan making one of his last efforts to prevent human redemption. In the loving words of this earnest disciple, Satan implores Christ, "Don't go to the cross."
From Christ's response to these tempting words, we learn another lesson as to the method of the Lord Jesus in dealing with the devil. On each occasion where Satan obviously spoke to Jesus, he was immediately and totally repudiated by the Lord. Christ did not take the time to think about it, to ponder these words. He did not say, "Well, I'll sleep on it." Not for one moment did Christ give place to the devil by holding that his evil suggestions were worthy of intelligent consideration. Instantly and emphatically, He responds by saying, "Get thee behind me, Satan." This was not the time for sweet diplomacy with Satan or his spokesman. "Thou art an offense unto me" is a flat denunciation of both the devil and Peter, his temporary servant. No suggestions about friendship or inoffensiveness would have been wise here. The issue is clear, and Satan must be denounced. In this instant and total repudiation of Satan we see one of the reasons his temptation of Christ did not succeed: Christ was determined to go to the cross and fulfill the will of His Father.
We see many expressions of this utter purposefulness in the words of the Savior spoken in many places and in various circumstances. "I must work the works of him that sent me, while it is day" (John 9:4). When referring to the will of His Father, our Lord Jesus knew the meaning of the word must. His value made His life a living illustration of what He admonished everyone else to do. "Seek ye first the kingdom of God and his righteousness." First the will of God, first the fulfillment of life's purpose, first and foremost that eternal reason for which I am—these were the propositions that oriented the direction of Christ. This determination to fulfill the will of God is what made satanic temptation a resistible thing.
The result was that Jesus Christ did go to the cross and died to provide redemption for a lost mankind. His death wrought the final and most severe damage to Satan and to his kingdom. Through His death, Christ destroyed the works of the devil (1 John 3:8). He destroyed "him that had the power of death, that is, the devil" (Hebrews 2:14-15). His statement was utterly true that He made shortly before His crucifixion. "The prince of this world is judged" (John 16:11). On the cross, Genesis 3:15 is fulfilled. Here, the Seed of the woman has bruised the head of the serpent. One of the great testimonies of the defeat of Satan and his kingdom is in the announcement of the apostle Paul, "Therefore if any man be in Christ, he is a new creature: old things are passed away; behold, all things are become new" (2 Corinthians 5:17).
Never again can Satan come before Christ and offer Him the kingdoms of this world, for they are no longer his. Christ has redeemed them as His inheritance through His death upon the cross. In that all of these belong to Christ, the New Testament Christian is given a most wonderful promise, "He that spared not his own Son, but delivered him up for us all, how shall he not with him also freely give us all things?" (Romans 8:32). The reconquest of the moral universe by the captain of our salvation makes it possible for Paul to announce to Christians, "For all things are yours; whether Paul, or Apollos, or Cephas, or the world, or life, or death, or things present, or things to come; all are yours; and ye are Christ's; and Christ is God's" (1 Corinthians 3:21-23). How unutterably wonderful are the results of Christ's repudiation of the satanic doctrine, "Don't live up to the purpose of your life; don't go to the cross."
The results in the life of the person who believes in Jesus Christ will be correspondingly great. However, we may be sure that Satan will come to every one of us and preach the same destructive doctrine of self-preservation. In many ways, he will say, "Don't be a fool. Don't give yourself to so ridiculous a course as the denial of yourself in order to accomplish some abstract spiritual purpose. Accomplishment is here and now. It is made out of money, material, cars, homes, and human applause. This is the only world we know anything about, and any man is a fool to live for the world to come. Enjoy yourself. Live it up." With these and many other propositions, Satan continues to play the hackneyed record that one is a fool to live for any moment beyond the existential now. He has not been without real help in promoting that theme. From the old atheistic philosophers to the modern television writers, Satan's media representatives in almost every field have denied the existence of spiritual value or eternal purpose in life and vividly promoted that soul-destroying message. As a result, the theme of our generation is, "Live now; it's later than you think."
As a fearful consequence, millions of people are turning aside from God's call and into the byways of this moment's indulgence. The man who dedicates himself to any cause that demands sacrifices, even on a human level, is accounted a fool by most people. Especially is the Christian accounted a fool. The young person who turns his back upon public applause and big money to give himself to the service of God is laughed at, sometimes even by his fellow Christians. The experience of each servant of God assures us that Satan will predictably find a way to say to us, "Don't give yourself to the point of death for a divine reason; don't be a fool."
We have, by contrast, the invitation of Jesus Christ: "If any man will come after me, let him deny himself, and take up his cross, and follow me" (Matthew 16:24). "He that loveth father or mother more than me is not worthy of me: and he that loveth son or daughter more than me is not worthy of me" (Matthew 10:37). "If any man comes to me, and hate not his father, and mother, and wife, and children, and brethren, and sisters, yea, and his own life also, he cannot be my disciple. And whosoever doth not bear his cross, and come after me, cannot be my disciple. So likewise, whosoever he be of you that forsaketh not all that he hath, he cannot be my disciple" (Luke 14:26-27, 33).
We can see in all this a most important and difficult choice! The call of God upon a life forces one to choose between the immediate rewards of this life and the approval of God in eternity. It is self-delusion for any Christian to imagine that the things of this world can bring satisfaction either permanently or temporarily. Peter was beginning to give himself to this dread, spiritual obscuration, for, as Christ said, "You are not setting your mind on God's interests, but man's" (Matthew 16:23, NASB).
The world is still very much with us, and it is driving itself with greater impact into our lives than ever before. How tragic that Christian young people by the millions should have become convinced that to be "with it," fashionable, relevant, a part of the "in group" is a position worth having. Millions of the people of God have become enslaved to the things of time because they did not heed the command of Scripture, "Love not the world, neither the things that are in the world. If any man love the world, the love of the Father is not in him. For all that is in the world, the lust of the flesh, and the lust of the eyes, and the pride of life, is not of the Father, but is of the world. And the world passeth away, and the lust thereof; but he that doeth the will of God abideth forever" (1 John 2:15-17).
Even in temporal things, dedication to a great purpose is a saving influence in this human life. Athletics illustrate this principle. Every four years we witness the thrilling spectacle of young Olympians winning gold medals in the arena. The winner is an infinitely happier young person as a result of the daily and painful discipline that produced his speed and endurance in competition. Who but a fool would deny that winning Olympians' lives are more desirable than that of the drug addict tumbling around alleys, hardly conscious of his own existence? Dedication, even to a corruptible crown, produces significant dividends in this life. Dedication to the purpose of God produces infinitely greater rewards in eternity.
Having failed to prevent Christ from going to the cross, the remaining activity of Satan is to prevent Christians from fulfilling God's intention to make of us significant witnesses to what that cross means. He cannot now succeed in preventing the production of God's plan for our personal, eternal salvation. He can, however, succeed in preventing the application of that plan in the lives of my neighbors, my friends, my world of influence. He can do that by simply turning me into an ordinary, complacent, uncommitted Christian. A major segment of humanity can still be lost if Satan can succeed in neutralizing the lives of Christian, keeping them from this "spiritual extremism" of being willing to live and, perhaps, to die for Christ.
God has a wonderful plan for each Christian's life, and that plan can be beautifully fulfilled with the help of the indwelling Holy Spirit. The Christian who will take up his cross and follow Christ, the Christian who will walk in the Spirit, can see the fulfilling of that bright purpose that the Lord Jesus died to make possible. The Christian who is living up to the purpose of God for his life is a serious threat to the devil and daily is used of God to push back the powers of darkness. Satan, knowing this, constantly works to get the Christian to believe the pernicious doctrine that salvation may be worth accepting, but Christ is not worth following and obeying with the total of one's capability.
To counteract this satanic doctrine, the Word of God asks that we not only believe in Christ for salvation but that we also commit our total potential to Him in glad service. What Christ said in a dozen ways, Paul affirms, saying,
I beseech you therefore, brethren, by the mercies of God, that ye present your bodies a living sacrifice, holy, acceptable unto God, which is your reasonable service. And be not conformed to this world: but be ye transformed by the renewing of your mind, that ye may prove what is that good, and acceptable, and perfect, will of God. (Romans 12:1-2)
In these verses, the Lord tells us as believers what results will accrue in our redeemed lives when we truly commit ourselves to Christ. He says we will "prove," we will bring to pass in fact, the beautiful purpose of God for our lives. It is God's intention that we Christians be joyous, capable, and successful in living this life for God. He even tells us that we should live our lives like kings (Romans 5:17) when we truly install His principles into our daily experience.
Much of the spiritual poverty that many Christians experience, comes because they have believed the satanic doctrine that was preached by Peter to the Lord Jesus: don't take up your cross. They have consequently settled for mediocre Christian lives, and therefore they are getting the worst of both worlds, the spiritual and the material. That is, they are being disciplined by God on the spiritual side and laughed at by the world on the materialistic side. Someone has well said, "He who lives for this world loses both this world and the world to come; whereas he who lives for the world to come gains this world in the bargain." The Scripture establishes the principle, saying, "If in this life only we have hope in Christ, we are of all men most miserable" (1 Corinthians 15:19).
Paul made no such mistake as investing his life in the wrong thing. He knew of the plan of God for his life, and he gave himself to the completion of that plan. As a result, when the high adventure of living for God in the framework of time drew to a close, Paul was able to say, "I have fought a good fight, I have finished my course, I have kept the faith; henceforth there is laid up for me a crown of righteousness, which the Lord, the righteous judge, shall give me at that day; and not to me only, but unto all them also that love his appearing" (2 Timothy 4:7-8).
A life committed to Jesus Christ is the prelude to that bright moment when we stand in His presence to hear Him say, "Well done." Satanic subversion is the road to disaster, both in this life and in eternity. His infernal majesty, knowing his time is short, is working as never before to prevent us from arriving joyously in the spacious avenues of heaven. He is also working diligently to prevent us from arriving in the company of grateful brothers and sisters whom we have led to Christ. That happy fulfillment will come only if we are articulate witnesses for Him, if we take up our cross and follow Him.
We, therefore, must discern the devilish character of every alternative in life that would draw us away from the fulfillment of the plan for us that Christ died to make possible. It is imperative that we discern and successfully resist the thousand voices that come to us from every quarter, which would beguile us into wasting our lives in the Vanity Fairs of this world. Alternatives to the plan of God are finally satanic. At no time, therefore, can we let down our guard and become vulnerable to the siren song, which in one way or another says, "Don't go to the cross."
---
"Don't Go to the Cross"