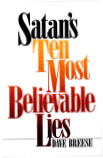 From Satan's Ten Most Believable Lies
by Dave Breese
The most remarkable book that has ever appeared on the human scene is the Bible. Written over the course of 1,500 years by more than forty authors, it claims and demonstrates that it is more than the words of eloquent men. It is indeed the very Word of the living God. When the believer says, "I rest upon Your Word alone," he claims the surest foundation available to man in this unsure world. He has stepped upon a rock that cannot be shaken, by believing in the Scripture that cannot be broken.
One of the reasons Scripture is a source of solace in time of sorrow and strength in times of weakness is the sure promises it contains. Peter said,
According as his divine power hath given unto us all things that pertain unto life and godliness, through the knowledge of him that hath called us to glory and virtue; whereby are given unto us exceeding great and precious promises: that by these ye might be partakers of the divine nature, having escaped the corruption that is in the world through lust. (2 Peter 1:3-4).
Exceeding great and precious promises! God has indeed made several thousand promises to various people at various times, and not one of these promises has failed or will fail. Men of God throughout the ages have done remarkable feats because they believed the Word of God and were convinced that the promises of God were absolutely trustworthy. One of these was Abraham, who "staggered not at the promises of God through unbelief; but was strong in faith, giving glory to God; and being fully persuaded that, what he had promises, he was able also to perform. And therefore, it was imputed to him for righteousness" (Romans 4:20-22).
Abraham believed God (literally, he said amen to God), and this became the basis for the gift of righteousness that he received from the Lord.
The stories of Abraham and other heroes of faith were not written simply to tell fascinating stories but that we might read and be encouraged in our faith. So, Paul says about Abraham, "Now it was not written for his sake alone, that it was imputed to him; but for us also, to whom it shall be imputed, if we believe on him that raised up Jesus our Lord from the dead; who was delivered for our offenses, and was raised again for our justification" (Romans 4:23-25).
We who are Christians can say with Solomon that God has not failed one word of His promise (1 Kings 8:56). With joy, we have sung,
Standing on the promises that cannot fail,
When the howling storms of doubt and fear assail.
By the living word of God I shall prevail,
Standing on the promises of God.
Any Christian will be greatly encouraged when he studies the Word of God and lists for his own soul's satisfaction the promises of God.
But there is a danger here. Danger, because Satan's next doctrine has to do with a presumptuous relationship to the promises of God. The eighth doctrine of the devil is, "Exploit the promises."
We learn of this doctrine from a further statement by Satan during the temptation of Christ.
What a scene that must have been! "Then the devil taketh him up into the holy city, and setteth him on a pinnacle of the temple" (Matthew 4:5). Satan and Christ were now looking down upon the multitudes who gathered in the Temple courtyard, assembling for worship. Possibly, thousands were in the Temple area on that occasion. Furthermore, they were in a religious state of mind and probably would have been deeply impressed if a major miracle had been performed in their presence on such an occasion. It is also entirely likely that the performer of this miracle would have impressed a multitude of people to believe in his divine abilities and thereby gained their following. The religious promoter would think very deeply as to how to exploit such a moment of opportunity!
With this in mind, listen to the words that Satan now speaks to Christ. "If thou be the Son of God, cast thyself down: for it is written, He shall give his angels charge concerning thee: and in their hands they shall bear thee up, lest at any time thou dash thy foot against a stone" (Matthew 4:6).
Again, we see our enemy moving in most subtle fashion, producing temptation on the highest spiritual plane. He invites Christ to produce a spiritual spectacular, and he quotes—actually misquotes—the Word of God to enhance that temptation. He attempts to entice Christ to exploit the promises of God.
What of this promise of Scripture? Is it valid? Certainly it is. One of the most blessed psalms is Psalm 91, in which David promises the protection and help of God to his own despite impossible external circumstances. This wonderful psalm has been a source of solace to believers in all of the ages. Who of us does not rejoice today in the many occasions in which we have seen these promises of protection and help abundantly fulfilled?
To this passage, the devil turns when he would corrupt the spiritual life of our Savior. He quotes a valid promise from God, not merely a piece of philosophic reasoning. It is not impossible that Satan expanded on this, reminding the Lord of the spectacular results that could come from such an exploit as jumping off the Temple but landing safely on the pavement below. Surely, thousands would be impressed with this magnificent feat, and they would turn from their lesser pursuits to follow Him.
In the same fashion, Satan appeals to would-be spiritual leaders of our present world, tempting them to move in the realm of the spectacular. Just as he invited Jesus Christ to become a superstar, he tempts men today to resort to one form of magic or another. He suggests that this is the key to success. He awakens the hope of making a lasting impression on people, obscuring the fact that the spectacular, even if successful, only impressed superficially, the response lasting no longer than other fascinations; and soon, the people are calling for better more spectacular tricks from greater magicians.
But has not Stan in a great measure succeeded in his call to spiritual presumption? How many are those in places of religious influence today who have forsaken piety for public relations? Promotion has become king, even in the work of the Lord. Large segments of the church have cased to believe in the power of prevailing prayer and have expanded their dependence on the power of hidden persuaders. We remind ourselves that the biggest men in popular religion today hire public relations firms and men to tailor their image for the newspapers and television sets of waiting and impressionable multitudes.
There is no question that a promotional program can be a vital instrument in the hands of God in producing a spiritual impact. But is a person's large promotional program the cause of his apparent spiritual success, or has he not had spiritual success first and his expanded influence is the result of the blessing of God upon an honest and faithful life? The first kind of promotion results in failure, whereas the second is the outward expression of success in the inner man. So it is that "promotion cometh neither from the east, nor from the west, nor from the south. But God. . . putteth down one, and setteth up another" (Psalm 75:6).
The name of Jesus Christ is famous today "from Greenland's icy mountains to India's coral strand." This fame, however, is not because He cast Himself off the Temple. It is because He eschewed such insanities and gave Himself to fulfill the purpose of God for His life in going to the cross and dying for the sins of the world.
The best answer to Satan's suggestion of exploiting God's promises for the sake of sensationalism is also an important point of sound Christian doctrine. In response to Satan's invitation, Jesus commands, "Thou shalt not put the Lord thy God to the test" (Matthew 4:7, NSRB).
The devil invites each of us to take the initiative and exploit the promises of God, Conversely, Jesus Christ warns us that we are forbidden to put God to the test. Tempting God, or putting Him to the test, is doing the devil's work. It is in opposition to the promised method of the working of God. We cannot sue God. We must not "bring Him to court" to produce what we presume He has promised. To bring a delinquent God to the dock and demand our rights as if He were some heavenly deadbeat is a grievous sin.
There are many ways in which this can be attempted, some of which are explained in the New Testament. We have the promises that "God shall supply all your need according to his riches in glory by Christ Jesus" (Philippians 4:19). Some people would hold that this is a promise that God will take care of us no matter how lazy or irresponsible we are.
Even Paul, who recorded this promise, worked as a tentmaker to support himself so that he would not be chargeable to any of the churches to whom he preached. He said, "These hands have ministered to my necessities, and to them that were with me" (Acts 20:34). The New Testament is filled with calls to diligence and carefulness lest Christians get the reputation of being fools whose foolishness is based on a false view of Scripture. Thou shalt not tempt the Lord thy God!
Paul states the basis of the Christian life when he says, "The just shall live by faith" (Romans 1:17), meaning, of course, faith in Christ for salvation. After salvation, it means to conduct ourselves according to the instructions and commandments of Scripture, living a disciplined and productive Christian life. To live by faith means to develop one's life in allegiance to the whole counsel of God.
By contrast there are those who announce that they are "living by faith," meaning that they do nothing to support themselves or the work of Christ. They become charity cases, adding to the bad reputation that the church already has in some places for spiritual foolishness. In their case, living life by faith becomes an excuse for laziness or incompetence. They presume that their need will be supplied no matter how irresponsibly they live. You shall not put the Lord your God to the test!
It is Satan who tempts us to perform a dangerous "act of faith," thereby forcing God to work a miracle to save us. In the face of this insane call, we have the absolute command of Christ. "Thou shalt not put the Lord thy god to the test." Who are we to force the God of the universe to do anything?
The prohibition against testing God is found in many places in Scripture. The children of Israel sinned because they put God to the test (Exodus 17:2). The Corinthian church was reminded of this occasion lest they become foolish in this same fashion (1 Corinthians 10:9). This is especially significant when we remember that the Corinthians were famous phenomenalists, who believed that faith must produce some spectacular events to prove itself. This carnal and corrupt church, in violation of the Word of God, gave itself to the foolish pursuit of phenomena rather then the studied development of mature faith.
We all should rethink what we mean when we say that we are standing on the promises of God. If we are trusting in the Lord as the source of our ultimate confidence, holding that the will of God will finally be done, whether we see it or not, well and good. If, however, we are tempted to exploit the promises of God in the name of our "deeply spiritual" faith, we may find ourselves doing the devils work to the damage of our own souls and to the hurt of the faith of those who look to us for an example. We have already seen that God has ordained natural law and it is on the basis of natural law that He normally in tends to work in our lives. Whether or not we see a miracle is entirely up to God. Miracle on demand is never given to us as a method of operation in doing the work of God.
Make no mistake about it, if we would master another language, we must study. If we would have a church building, we must build it. If we would preach and teach well, we must learn the Word of God. The same God who wrote the Scripture ordained that the law of gravity would operate on all normal occasions. The Christian, no matter how spiritual he pretends to be, is a fool if he expects that God will cancel that law in his favor whenever he chooses or pleases.
Why is it that God tells us never to put Him to the test? The reasons are obvious. The first is that we may have the wrong understanding of the promises. For instance, when we read the promise, "My God shall supply all your need," we may really have little idea as to what our real need is. We may tell ourselves that we need great riches when our real need may be severe discipline. We may think our most pressing need is the love of this man or that woman, but we may be asking for a hell on earth. Our understanding about ourselves and about God is limited enough so that we should be careful about prescribing to God how He shall fulfill this promise to us. Only omniscience knows the exact nature of our real need.
A second reason we must be careful about putting God to the test is that we may be attempting to claim a promise that simply does not apply to us at all. For instance, how often have we quoted in our churches 2 Chronicles 7:14, "if my people, which are called by my name, shall humble themselves, and pray, and seek my face, and turn from their wicked ways; then will I hear from heaven, and will forgive their sin, and will heal their land?" Christians of many nations have prayed on the basis of this verse that "their land" would be healed, forgiven, and saved. The fact is that this promise was given to the nation of Israel and has not been repeated for the benefits of the British, and Americans or the Koreans. Now, surely, God will bring blessing to any land that is the object of the ministry of faithful Christians, but he promise of 2 Chronicles 7:14 simply cannot be invoked for a modern nation in the same sense that it was given to the Jews.
Christians are frequently encouraged to become tithers on the basis of the promise of Malachi 3:10. "Bring ye all the tithes into the storehouse, that there may be meat in mine house, and prove me now herewith, saith the Lord of hosts, if I will not open you the windows of heaven, and pour you out a blessing, that there shall not be room enough to receive it." This surely was a wonderful promise made to the nation of Israel, that the tithing of the people of God would be the cause for the prosperity that God would minister to them in return. He would pour them out a blessing greater than they could receive.
Does this also apply to Christians? Each Christian is called to give as God has prospered. The argument is very sound that if one tithed under the law, surely he should give much more than this under grace. To argue, however, that tithing is the basis of the blessing of God in our lives in the same sense that it was in the Old Testament, is a misapplication of the promise of God. Every Christian is blessed with all spiritual blessings in heavenly places in Christ (Ephesians 1:3). This is not because he tithes, or works, or does anything else to earn it. This is because of the grace of Jesus Christ and becomes the portion of the Christian because of the finished work of Calvary. Our working for God, our giving, and our faithful service in no way cause the blessing of God, but rather these are our grateful responses to spiritual blessings we have already received in Jesus Christ. In this case of misapplication, a promise becomes a limiting factor rather than a source of spiritual encouragement.
A further reason we must be careful about putting God to the test is that we may not be in a condition to receive God's promise. We remember that David said, "If I regard iniquity in my heart, the Lord will not hear me." The person who is not saved, or the Christian who is allowing a sinful condition to continue in his life, is in no position to receive a promise of God except the promise of judgment.
One of the great qualities of discernment that we must be given of God is the ability to tell the difference between faith and presumption. Faith has been the basis upon which God has produced marvelous results in the lives of believing people. Presumption, on the other hand, has produced nothing but spiritual disaster. The fine line between faith and presumption is obscure to many people. This obscurity, of course, is due to a lack of knowledge of the Word of God and therefore a deficiency of the spiritual discernment which such knowledge produces. Faith is a wonderful gift from God, but presumption is one of Satan's most widely distributed products.
The question of course remains. How do we relate to the promises of God? Is there any way that they can be truly appropriated and made relevant and valuable in our lives? The following are some simple rules for relating to the promises of God.
1. The promises of God must not become a substitute for faithfulness. The promise that all things are yours (1 Corinthians 3:22) or that God will give us "all things" (Romans 8:32) must never lead a person to become a thief under the argument that all things belong to him anyway. The Christian must work to support himself and his family, give to the work of God, study the Word, and be industrious in many other ways, despite the promise of God that the world belongs to us.
2. Our interpretation of the promise must be consistent with the whole of Scripture. We are promised in Psalm 91, "With long life will I satisfy him." Nevertheless, the Bible announces that the normal life of an individual will be "threescore years and ten" (Psalm 90:10). Therefore, one cannot reasonably pray that he will live to the age of two hundred.
3. Our faith must not violate moral principles. God has told us, "Whatsoever a man soweth, that shall he also reap" (Galatians 6:7). The principle applies to the chain smoker who prays that he will recover from thirty years of nicotine damage in a moment of miracle. In many ways, God has promised to deliver us, but Paul clearly said that if he had done anything "worthy of death," he refused "not to die" (Acts 25:11). He was conscious that he must not violate the moral cause and effect relationship on which the universe is built.
4. We must remember that God may have a greater plan in mind. It is possible that when Paul was being beaten with stripes in the city of Philippi and then thrown into prison, he might well have prayed that he would be instantly delivered from this situation. Instead, of course, he rejoiced with Silas in their circumstance (Acts 16:25), for he sensed that God was working out a greater plan than that he be relieved at that moment from physical pain. The greater plan, of course, was the conversion of the Philippian jailer, which was the result of Paul's faith, indeed, even of his unwillingness to escape the prison. Some of us might have considered the open prison doors a miraculous deliverance.
Any of us would be a fool to forget that God may have a plan that is greater than our physical deliverance from a distressing circumstances. He may even have plan that is more important than our survival in a given circumstance. Surely the martyrdom of Stephen, who was not delivered from death, became a stirring example to his fellow Christians. There is much modern preaching that seems to forget that the Bible promises Christians, "Yea, and all that will live godly in Christ Jesus shall suffer persecution" (2 Timothy 3:12). "Unto you it is given in the behalf of Christ, not only to believe on him, but also to suffer for his sake" (Philippians 1:29). "They shall put you out of the synagogues; yea, the time cometh, that whosoever killeth you will think that he doeth God service" (John 16:2). "For they shall deliver you up to councils; and in the synagogues ye shall be beaten: and ye shall be brought before rulers and kings for my sake, for a testimony against them" (Mark 13:9). It is irresponsible to preach and foolish to believe that the will of God is always our instant satisfaction and our total pleasure and fulfillment now.
5. We must not let the promises of God obscure the Person of God. Surely, the greatest promise that Christ makes to any of us is, "I will never leave thee, nor forsake thee" (Hebrews 13:5). If my blessed Lord is with me in every circumstance of life, what else really matters? What bauble, what pleasure, what answer to a fearful prayer can compare with His personal presence with me today? We have learned from the satanic discussion concerning Job that the devil would have us revere the blessing of God more than the God who gives those blessings. To lose sight of the Person because our eyes are filled with His gifts is to become a servant of Satan.
A.B. Simpson, founder of the Christian and Missionary Alliance, stated this spiritual principle perceptively:
Once it was the blessing, now it is the Lord:
Once it was the feeling, now it is His Word;
Once His gift I wanted, now the Giver own;
Once I sought for healing, now Himself alone,

Once 'twas painful trying, now tis perfect trust;
Once a half salvation, now the uttermost!
Once 'twas ceaseless holding, now He holds me fast;
Once 'twas constant drifting, now my anchor's cast.

Once 'twas busy planning, now 'tis trustful prayer
Once 'twas anxious caring, now He has the care;
Once 'twas what I wanted, now what Jesus says;
Once 'twas constant asking, now 'tis ceaseless praise.

Once it was my working, His it hence shall be;
Once I tried to use Him, now He uses me;
Once the power I wanted, now the Mighty One;
Once for self I labored, now for Him alone.

Once I hoped in Jesus, now I know He's mine;
Once my lamps were dying, now they brightly shine;
Once for death I waited, now His coming hail;
And my hopes are anchored safe within the veil.
We said. Mr. Simpson has given us eloquent testimony of the path toward spiritual maturity that he followed. His immature faith wanted the things of God. His mature faith then sought for only the Lord Himself.
There is a final question that we must face, and that is, Why do we have the promises of God? The answer may be best expressed in the form of illustration. Outside of our cities, there are highways with sharp curves, bridge, and sometimes deep precipices. In these places, the highway department puts up a fence that, in effect, says, "Here is a promise; you will be protected from unusual danger at this point where the road curves." Now, what are we supposed to do with that promise? Shall we get a large truck, fill it full of heavy material, and drive it at a high speed into the retaining fence? Is this a good activity to "prove" whether the promising possibilities of the fence are true or not? The answer is that of course we should not. These retaining fences were placed there for a purpose, that is, to protect us from unusual circumstances.
If someone is driving along this road and suddenly a tire blows, he might be in great trouble. The car bounces against the retaining fence, returns to the road, and the damage is slight. But for the restraining fence, the driver and the automobile would have been in deep trouble. The fence and its implied promise became a source of deliverance.
This is something like the manner in which we are to relate to the promises of God. The normal course of events in our lives is that needs are supplied through work; health is sustained through diet, exercise, and even the help of a physician (as was the case with Paul). The extreme circumstances in life are rare. At the point, man's extremity may well become God's opportunity. The Lord may choose to avail Himself of this opportunity. Whether He does or does not, has nothing to do with His love or justice in the eyes of a trusting soul. It is, therefore, good to remind ourselves again of the imperative principle. "The just shall live by faith."
---
"Exploit the Promises"