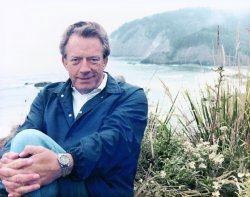 David William Breese was born in Chicago on October 14, 1926. He was the only son among four children born to David and Ruth Breese. They also had a foster son, Bob.
When Dave was a child, his older sisters, Betty, Mary and Marg, became involved in a Hi-C Club, a Christian youth organization. One week, the Hi-C meeting was held at his house. At 16 years of age, Dave had no interest in their religious pursuits and took shelter in the basement. Not to be denied, one of the club members convinced Dave to come upstairs, where he heard Virginia Latham teaching a study on the book of Romans. That was the first time he had heard the Gospel presented clearly. The message struck a chord in his heart, and he began to think in earnest about the claims of Christ.
A couple of weeks later, on a rainy night, while walking on Chicago's North Side, Dave looked up to heaven with tears in his eyes and said that wonderful "Yes" to Jesus Christ. His life was forever changed!
Those who knew Dave well will remember that he often said, "Good things happen on rainy nights!" And we are reminded that the millions of souls who were touched by Dave's life might never have heard the Gospel message were it not for the spiritual persistence of his older sisters.
Dave attended Lane Technical High School, an all-boys school with 8,000 students. As a youth, Dave had been fascinated by airplanes and flying. During World War II, he entered Pre-Flight Training at Lane Tech, in hopes of serving his country. But God had yet greater things for him to do. When he gave his heart to Christ, he enlisted instead in the service of another kingdom—a spiritual kingdom—becoming instead a great soldier in the battle for souls. Dave completed his studies at Judson College and Northern Baptist Seminary.
Still, God honored his desire to fly, and Dave eventually earned his multiengine rating. And oh, how he loved to fly! It was to be a skill that would serve him well, as he piloted his own way to speaking engagements all across the country.
At a meeting in Winona Lake, Indiana, he met a young lady named Carol Flaming. In time, interest turned to love. They were married and blessed with two wonderful daughters, Lynn and Noelle. They also embraced a young Laotian boy, Lomae, who is part of the Breese extended family. Today, the Breese family has blossomed to include two sons-in-law, a grandson-in-law, six grandchildren and one great-grandson.
Because of his great success in spreading the Gospel, some might think that Dave had it easy. But talk to his children and you'll hear stories of Dave sitting up late at night, making radio programs on a simple recorder with a blanket over his head, because of the outside noises. At that time he didn't have a recording studio. Some suggest his 5-minute radio format was determined by time availability, but the family has always believed it was the lack of air under that blanket!
Dave was never enamored by material things. His one burning desire was to spread the Good News that Jesus saves and is coming back again. To put it in his own words, "Everything else was applesauce!"
His credits were impressive and many. Among them, he was:
But, to Dave, all that paled in significance when compared to the joy of leading a single soul to faith in Jesus Christ.
By the 80's, he had gained national prominence via his radio broadcasts "Dave Breese Reports" and "Dave Breese Reporting!" His network of over a hundred stations covered much of the United States. In the mid 80's, Dave accepted the call to become speaker on "The King is Coming" telecast and later assumed the presidency of the telecast's parent organization, World Prophetic Ministry. His outreach via television spanned the globe, reaching across all of America and into 57 nations of the world.
Then, just as the new millennium was ushered in, Dave suffered a stroke. He had been working so hard, accepting every invitation he could to preach the Gospel of Jesus Christ! In an average year, he would travel over 100,000 miles to speak at churches, Bible Conferences, colleges, universities, evangelistic meetings and debates. It was a labor of love, but the busy schedule had taken its toll.
After his stroke, Dave continued to herald the Gospel through his writings and publications. Today, his message of hope and salvation can still be heard around the world via audio and videotape. That marvelous message of the love of Jesus and His power to save continued to burn within Dave until the day the Lord took him home to heaven on May 3, 2002.
We will continue the broadcasts and ministry of Christian Destiny and World Prophetic Ministry with Dave's timeless messages and with the help of many of his friends.