The Grace Factor
The certainty of the love of God for us is a great truth and a precious treasure. Within it is a promise from God to us of strength from heaven, personal provision for everything and the certainty of supreme divine capability in every circumstance of life.






The Tide of Our Times
Despite decades of imposed communism, adversity and oppression under the despotic leadership of Fidel Castro, the Christian church in Cuba has miraculously grown.


<!>

In Search of the Real Thing
It is high time that we have within this true and marvelous thing called Christianity a real revival. We speak of the preaching of the true Gospel, of the call to commitment to Christ, of vital Christian godliness and genuine consecration to Christ.
<!>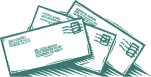 Your Questions Answered
Things seem to be very confused and dangerous in today's world. I am afraid of what might happen. What shall I do? Is it true that the Bible teaches the fall and rise of the house of Israel?